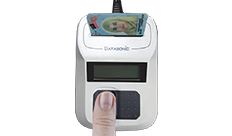 Smartcard Readers
Datasonic Smart Reader is designed with both elements of security and functionality in mind. It supports the reading of latest EBA (Enhanced Biometric Access) MyKad which would require mutual authentication before the access to the fingerprint data file. DSR-1905 DATASONIC SMART READER MULTI-CARD READER + FINGERPRINT SCANNER + LCD SCREEN The design principles of Smart Reader is aligned with the philosophy of EBA MyKad where protection of fingerprint data is of vital importance. The data flow of biometric info would never leave the reader throughout it's life cycle. The implementation complies to "Protection Profile for Smart Card Reader with Biometric Protection" authorised by both JPN and Cybersecurity Malaysia.
MYIDM – Integrated Security Management System
Datasonic brings together the best of breed security access system to safeguard organization most valuable asset, the people, property and data. Our Integrated Security Management Solutions that incorporates the next generation biometric terminal access or also known as MYIDM.
MYIDM is a fully integrated Security Management Solution that spans from logical access to physical access, all in one single simple to use platform. Ease of use with higher security offerings are the key attributes of MYIDM.
MYIDM delivers tomorrow technology and provides value add to your business today whilst being developed in scalable architecture in terms of both hardware and software. It offers a solution that is able to cater to large sized, complex building security requirements and capable of handling multisite locally and internationally whilst also being able to suit for a small medium business.
MYIDM offers usage of biometric recognition devices such as Finger and Face / Face and Eye or combination with contactless card for indoor or outdoor, MYIDM offers most reliable biometric platform to protect variety of premises and logical security access.
Secure ID Solutions
Datasonic offers complete portfolio of secure ID solutions tailored to your needs for single and multi applications ID badges for corporate identity, access control, verification for security, time & attendance tracking purposes. Our trained staffs will work together with you to design cost-effective and efficient ID systems that suit to your ID needs and requirements.
With over a decade of experience in both the governmental and corporate industries in designing, developing and implementing highly secured ID systems and solutions, we at Datasonic also provides complete smart ID card consulting and card life cycle management services to our clients to develop and manage their on-going, routine ID badging requirements to keep their business running smoothly and efficiency.
DMSB is a certified Global Card Manufacturing company from Malaysia. We manufactured various type of Membership Card, Smart Card, National ID Card & EMV Cards. Contact us for more information.